Vice President of Sales and Marketing
Vice President of Operations
Erica Boeckle
Director of Project Management
Doug McCotter
Director of Human Resources
Harry E. Gregori, Jr.
Lead Regulatory Manager
John Conover
Senior Scientist
Jenna Minton
Region Sales Manager, Central & North Carolina
Alan Byrd
Health and Safety Officer
Hudson Elmore
Project Manager
Gary Acquaro
Western Region Manager
Josh Schmidt
Cincinnati, OH Area Manager.
Steven Arthur
Columbia, SC Assistant Manager
Wayne Mosely
Louisville, KY Area Manager
Brandon Blackwelder
Charlotte, NC Area Manager
Ann Novakowski
Project Manager
Sean Farley
Winston-Salem, NC Assistant Manager
Michael Tomaszewski
Southern Region Sales Manager
Steve Bailey
Woodbridge, NJ Area Manager
Chris Lance
Fayetteville, NC Area Manager
Ed Naughton
Pittsburgh, PA Area Manager
Chuck Reinwald
Northern Region Manager
Tyler Crabtree
Knoxville, TN Area Manager
Will Hendel
Richmond, VA Area Manager
Mike Phelps
Fredericksburg, VA Area Manager
Blake Hartman
Petersburg, VA Area Manager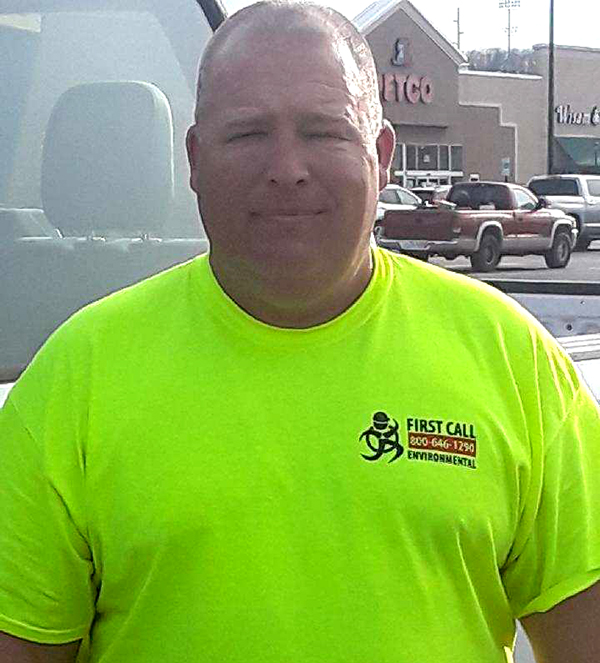 Matt Geiger
Area Manager, Maple Shade, NJ
Matt Geiger was hired at First Call in September of 2019 as the Area Manager for our Maple Shade, NJ field office and immediately had an impact re-energizing and transforming that location. Matt was instrumental in making the Maple Shade field office successful with his leadership skills and was also an asset to the community. Matt came to First Call Environmental with a vast background in Emergency Services and hazardous material response as he is a 21 year fire veteran as he serves as Captain of the Cinnaminson, NJ Volunteer Department.
Matt exhibited such strong management skills along with a dedicated approach to his craft as an Area Manager that he was recently promoted to lead a team of First Call Environmental technicians on a year long project where he will oversee all daily operations.
When Matt is not working he enjoys spending time with his wife Stefanie, and two sons Timothy and Anthony. Matt enjoys hiking and spending time outdoors. He also has four dogs that keep him busy, Dozer, Chunk, Jack and Sassafrass.
First Call is proud to have Matt as part of our work family. Matt goes above and beyond with everything that he does at First Call and shows the "First Call Difference" everyday. Thank you Matt.