Vice President of Sales and Marketing
Michael Tomaszewski
Vice President of Operations
Vice President of Emergency Response
Doug McCotter
Director of Human Resources
Harry E. Gregori, Jr.
Lead Regulatory Manager
John Conover
Senior Scientist
Jenna Minton
Region Sales Manager, Central & North Carolina
Eric Hartman
Central Region Manager
Brandon Martin
Southern Region Sales Manager
Matt Corley
Northern Region Sales Manager
Taylor Hartman
Project Manager
Jonathan Fischer
Project Manager
Julie Pittman
Project Manager
Ann Novakowski
Project Manager
Taylor Kickler
Project Manager
Erica Boeckle
Project Manager
Jillian Parisien
Maple Shade, NJ Area Manager
Steve Bailey
Woodbridge, NJ Area Manager
Will Hendel
Richmond, VA Area Manager
Blake Hartman
Petersburg, VA Area Manager
Mike Phelps
Fredericksburg, VA Area Manager
Sean Farley
Apex, NC Area Manager
Chris Lance
Fayetteville, NC Area Manager
Kristen Summey
Charlotte, NC Area Manager
Josh Schmidt
Cincinnati, OH Area Manager.
Chuck Reinwald
Senior Regional Manager
Guy Allard
Southern Region Manager
Wayne Mosely
Louisville, KY Area Manager
Ed Naughton
Pittsburgh, PA Area Manager
Carole Lewis
Asheville, NC Area Manager
Darryl Roberts
Augusta, GA Area Manager
Ricky Myers
Knoxville, TN Area Manager
Ron Smith
Greensboro, NC Area Manager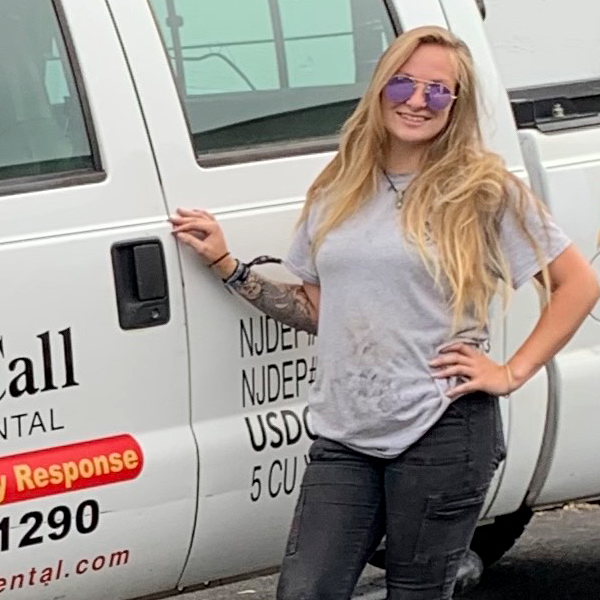 Jillian Parisien
Area Manager, Maple Shade, NJ
It is our pleasure to introduce you to Jillian Parisien. Jillian is our Area Manager in Maple Shade New Jersey
As Area Manager, Jillian oversees both the day-to-day and emergency operations of the Maple Shade office and has grown both its staffing and operational capability. Jillians duties include hiring, training, scheduling or technicians and supervisors.
Since Jillian joined First Call Environmental just over a year ago, she has shown herself to be not just a skilled technician but a highly capable leader capable of moving her operation forward.
Groomed by family members like her brother and Grandfather whom are both in law enforcement, Jillian too wanted to serve and make a difference. A native of Upper Darby PA, Jillian grew up in Washington Township NJ, Jillian chose to furthered her education and obtained her bachelor's degree in conservation and wildlife management with a minor in business administration.
When at home, jillian loves to spend time with her 2 cats and bearded dragon and in her free time, enjoys snow boarding, hiking and catching up on sleep. We are proud that Jillian calls First Call home and look forward to what her bright future holds.
Please join us in welcoming Jillian to the First Call Environmental family!