Vice President of Sales and Marketing
Michael Tomaszewski
Vice President of Operations
Vice President of Emergency Response
Doug McCotter
Director of Human Resources
Erica Boeckle
Director of Project Management
Harry E. Gregori, Jr.
Lead Regulatory Manager
John Conover
Senior Scientist
Taylor Hartman
Project Manager
Jonathan Fischer
Project Manager
Julie Pittman
Project Manager
Ann Novakowski
Project Manager
Taylor Kickler
Project Manager
Chuck Reinwald
Senior Regional Manager
Eric Hartman
Central Region Manager
Guy Allard
Southern Region Manager
Brandon Martin
Southern Region Sales Manager
Matt Corley
Northern Region Sales Manager
Jenna Minton
Region Sales Manager, Central & North Carolina
Steve Bailey
Woodbridge, NJ Area Manager
Will Hendel
Richmond, VA Area Manager
Blake Hartman
Petersburg, VA Area Manager
Mike Phelps
Fredericksburg, VA Area Manager
Sean Farley
Apex, NC – Area Manager
Chris Lance
Fayetteville, NC Area Manager
Kristen Summey
Charlotte, NC Area Manager
Josh Schmidt
Cincinnati, OH Area Manager.
Wayne Mosely
Louisville, KY Area Manager
Ed Naughton
Pittsburgh, PA Area Manager
Ben Smalls
Columbia, SC Area Manager
Darryl Roberts
Augusta, GA Area Manager
Ricky Myers
Knoxville, TN Area Manager
Ron Smith
Greensboro, NC – Area Manager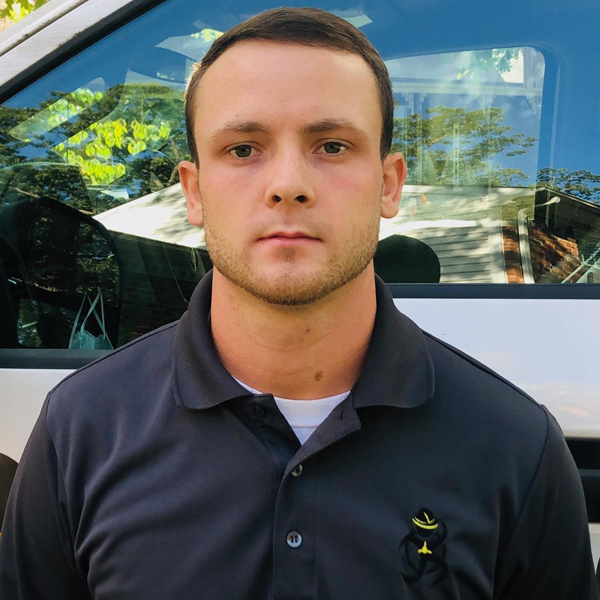 Blake Hartman
Hazmat Technician, Ashland, VA
Blake Hartman began his employment with First Call Environmental in October of 2019 as a Hazmat Technician at our home office in Ashland, VA.  Through hard work and a commitment to professionalism, Blake was promoted as the Area Manager for our Petersburg, VA field office in December of 2019.
Blake graduated from Hampden-Sydney College in Farmville, Virginia in May of 2019, where he received a Bachelor's Degree in Business Economics. Blake exhibited a strong work ethic and an attention to detail in both his scholastic studies and as a member of the baseball team at Hampden-Sydney, which he brings to First Call.
Blake has proven himself to be a dedicated First Call employee. He can be depended on to properly complete all assigned tasks, with specific attention to safety for he and his crew members while also maintaining his assigned equipment in a clean, professional manner that always stands ready to respond to the next assignment. 
In his spare time Blake enjoys fishing and spending time with his friends at Lake Gaston, NC.
Blake's leadership, adherence to company policies, attention to detail and demand for safety in the work place fully illustrates the First Call Difference.  One call to 800-646-1290 is all takes to have Blake Hartman and team Petersburg and our other 19 field offices assist you on your next environmental project.