For decades, Americans have been facing a "war on drugs", and now our nation is in the midst of an unprecedented opioid epidemic that is having a devastating impact on individuals, families, and communities.  Since the late 1990's, with the increase in Doctor's prescribing opioids for pain relief, more and more people have become addicted to their use. This addiction often leads to misuse, and even the use of illicit drugs which are even more dangerous. Currently in the United States alone, an average of 130 people dies each day due to overdosing on opioids.
What do we know about the opioid crisis?
Roughly 25% of patients prescribed opioids for chronic pain misuse them.
Around 10% develop an opioid use disorder.
An estimated 5% who misuse prescription opioids transition to heroin.
About 80% of people who use heroin first misused prescription opioids.
The misuse of and addiction to opioids—including prescription pain relievers, heroin, and synthetic opioids such as fentanyl—is a serious national crisis that affects the overall public health as well as our social and economic welfare.  The effects of opioid use and misuse are not isolated to work or home environments, and the potential for addiction may be preceded by injuries that happen in the workplace, with the consequences affecting both an individual's working life as well as their home life.
Following President Trump's lead in 2017 of declaring the opioid crisis a "Public Health Emergency", the federal government has partnered with both state and local agencies in their work to battle this epidemic.  They have implemented a five-pronged strategy that includes:

Improving access to treatment and recovery services; Promoting use of overdose-reversing drugs like naloxone, (EVZIO, NARCAN); Strengthening public health surveillance; Supporting cutting edge research on pain and addiction; and Advancing better practices for pain management.
To truly stop this crisis, it is important to avoid creating dependence in the first place. That means rethinking the revolution in pain management that has taken place over the past several decades, which has done a great deal of good but also had devastating unintended consequences for millions of patients.
NIOSH Confronts the Opioid Crisis!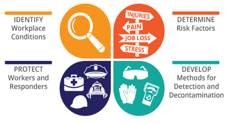 By considering the "lifecycle" of opioid use from workplace impacts and conditions, to detection and decontamination, NIOSH practitioners offer unique recommendations targeted at workers and employers facing this crisis together.  Policies, programs, and practices that address the conditions of work should be considered to protect workers and advance their health and well-being related to opioid exposure, use, and potential misuse.
While these actions are a good start, coping with an epidemic of this magnitude will require solutions from both the public and the private sector. For their part, large employers are assessing the opioid epidemic's effect on their organizations, employees and dependents, and are taking specific steps to address it.  Employers now have options to address how injuries to their employees are handled with specific health plans, and prescription management procedures can be put in place to allow some oversight on when medical use becomes drug abuse.
The opioid epidemic has lowered the overall life expectancy of the U.S. population for the first time in over two decades and is currently running around 10 overdose deaths per 100,000 people. In order to combat this problem, government and the private sector need to work in tandem to address prescription drug abuse and provide proper treatment. Employers can contribute by encouraging employees to seek treatment, as well as engaging with the health care provider community to advocate for prescription quantity control. In addition, health plan administrators and PBMs can work closely together to identify and reach out to those who have been prescribed opioids for more than a given timeframe.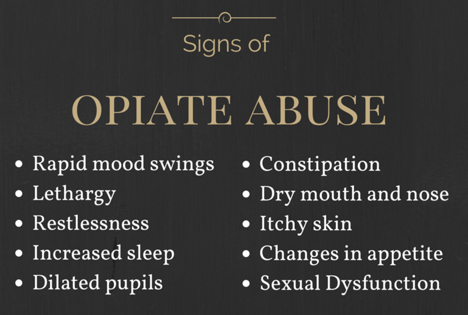 Solutions to this crisis must come soon, and they will, if employers, health care providers, government, and the pharma community work together at addressing the problem.